Fans

Nylube has the elevator industry's most complete line of fans. High quality, made in America fans which are very competitively priced. You might be buying a Nylube Fan even if you purchase from another company. We have two and three speed models. Round, square, high performance, DC. Whichever of these you require, Nylube has it.
X12F9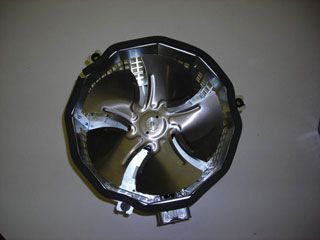 The X12F9 two speed fan is the choice of most elevator customers for their air flow, quietness and competitive price. Unlike most other elevator fan suppliers, Nylube has a fan testing chamber. That allows us to report the CFM our fans actually provide (350 on high speed, 255 on low speed), not what the blade is rated for. Ask our competitors how their CFM claims are calculated.
The X12F9 requires a 10" hole and has a cage 6" in height. It can be used with the standard white (#1610) and stainless (#1600) grilles. These fans feature motors that are sealed, self-lubricating, and rubber-mounted to the housing. The durable galvanized steel fan cage is designed to withstand heavy weight and impact.
---
X2SQ6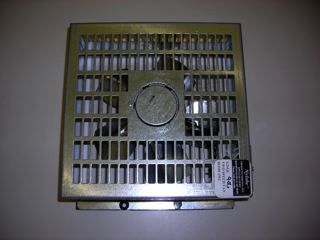 The X2SQ6 was introduced recently to allow customers a chance to replace their current square fan and step up in quality and air flow at an economy price. This fan works with a 10" hole and the cage is only 4.125" tall allowing for mounting in tighter spaces. When you find out the price, you'll understand why this new model has already become so popular.
---
X14F6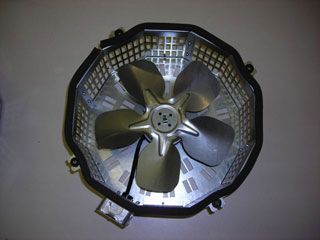 The two speed X14F6 was another fan created by customer request. Our standard fans could always be used with our fan adapters when a 12" hole was already in place, but what if we extended our fan line to make an adapter unnecessary? The answer was the surprisingly low cost X14F6. This model should definitely be considered when replacing another manufacturer's 14" fan. You won't be disappointed.
XNLOE-3
The three speed XNLOE-3 (#1520) is a higher performance model appropriate for larger cabs or for high speed elevators. A solid top prevents blades from stalling, and the higher power motor provides 400 CFM at top speed (360 at middle and 250 at low speed). The XNLOE-3 has a 120 volt AC, 60 cycle, single phase motor and offers 18 gauge steel, grey enamel finish and full neoprene vibration isolation. Although three speeds are available, many customers choose this fan when replacing a competitor's comparable two speed fan and hook up only two of the speed wires. (Please note: the Blower version of this fan is no longer available)
2XNLOE-3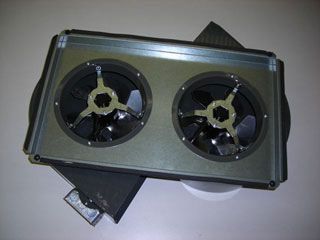 For the most demanding of applications, when maximum airflow is required, the 2XNLOE-3 High Performance Fan is the model for you. Offering up to 800 CFM of air flow, this unit is ideal for very large cabs. The open plenum design allows for multiple cutout options to meet most existing applications and easy replacement for many competitors' models. The choices are two 10" diameter holes, two rectangular holes (matches up with AA fan holes), or one 12" hole (round or square).
DC Fans with Thermostats / Power Supplies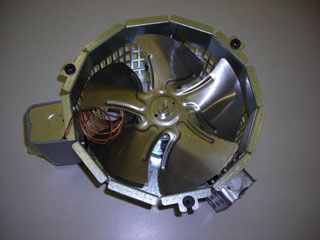 Designed for glass backed cabs, the XF12V DC fan provides 250 cfm free air when prime power is lost and the ambient temperature reaches 80ºF. It features a 12V DC motor, but is powered at 6V DC to provide comparable air flow to standard AC fans. Please note: This is a backup fan only. A regular AC fan is still required as well. When the temperature in the cab is 75ºF the thermostat shuts the fan off, conserving power for the greatest possible time frame for emergency operation.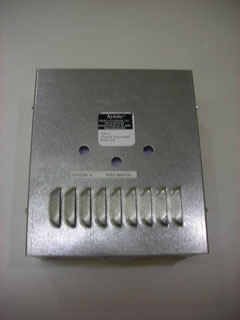 Grilles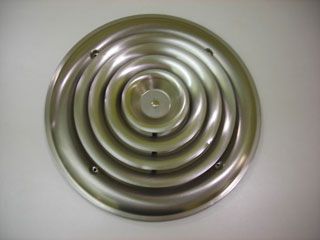 Stainless Grille - #1600 - 14" Outside Diameter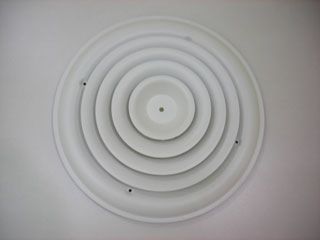 Fits either 10" or 12" hole with included internal adapter ring.
Nylube Products Company, LLC.

2299 Star Court, Rochester Hills, MI 48309