Reduce pit fire hazard ... Save Oil
Cleaner - less slippery pit floors
Pt flood safety shut off (Optional)
A Nylube-designed, sealed, submersible pump and motor in compact, corrosion-proof tank- automatic pump operation- return oil filter. Easy, low cost installation- flexible tubing with no connection to elevator hydraulic system- light weight, suitable for permanent or portable use. Accessory flood control prevents pumping when water is present in pit. Operational pre-test switch furnished on every unit.
Specifications and Installation
3 gallon tank
16"L x 11"W x 6"H
Weight of pump 16 lbs.(7.5kg)
60 Cycle
Removable tank cover
Floor or side wall mount
115VAC
1 phase- 3.5 amp
Flood Control Model NLS-3-FC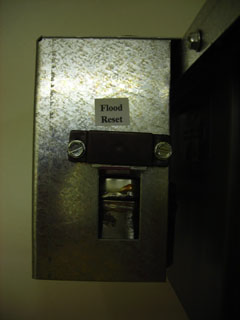 Model NLS-3-FC with water sensor kit - if flood water or liquids rise, the power to the oil return pump system is broken until manually reset when no liquid is present and system is clean - prevents contaminants from entering elevator hydraulic system.

Operation

Oil collected at the jack head drains back under gravity, and is filtered through a cleanable screen at the tank. The tank holds 3 gallons of oil. A float in the tank starts the pump when the oil level rises, stopping when it falls. The sealed pump forces the oil through a check valve, and tubing to the elevator hydraulic oil reservoir.

If flood water should rise in the pit, the automatic safety control senses the presence of water, shutting doen the pump, so no oil or water is pumped until the pit is dry. After the sump system is checked, made free of water, and the safety switch manually unlatched, the pump may be put back into service.